WHERE DO YOU WANT TO BE?
With beautiful beaches, miles of bicycle paths, fertile fishing waters and mild weather, being outdoors is a way of life on St. Simons Island. Our unique shops and eclectic restaurants celebrate every aspect of Island Life and provide guests an abundance of things to do on St. Simons Island. Historical sites are everywhere you look on the Island. From Christ Church to Fort Frederica, the St. Simons Lighthouse and the Battle of Bloody Marsh…history buffs appreciate the area's nod to generations before. Our Vacation Rental Properties are available throughout the year and in various locations on the Island near all the best things to do! Contact us to talk about all of the things to do on St. Simons Island, attractions, and where you want to be! Visiting the Federal Law Enforcement Training Center for an extended period of time? Hodnett Cooper Vacation Rentals on St. Simons Island can help you!
Explore the Island
St. Simons Island is ranked second in USA Today's, 'America's Best Coastal Small Towns 2016' for great reason! Explore the area and see for yourself the beauty and charm it boasts. With a full calendar of outdoor activities, to festivals and traditional art shows, there is something for everyone to love about St. Simons Island. Get directions to St. Simons Island to help you find your way here.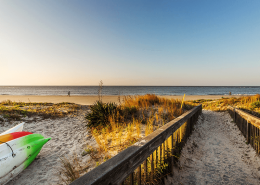 Explore area activities for you and your family. Take a walk on the beach and see the historic Light House on St. Simons Island, or maybe take a day trip to Jekyll Island and visit Driftwood Beach. Historic sites, entertainment, shopping, and restaurants..the Golden Isles has it all!
Area beaches are a major draw for both residents and visitors to the island. St. Simons Island has miles of beachfront for you to walk, bike, or relax on! Conveniently located across the island, find the perfect beach access for your trip to St. Simons Island. You can also enjoy the salt air and ocean views on Jekyll Island.
From the oldest church in Georgia, to a working lighthouse built in the 1800's, St. Simons Island is rich with history. Brunswick dates back to the early 1700's and was one of the five original ports of entry for the American colonies. On Sea Island, you can learn about the historic and commemorative oaks that distinguished guests plant on the grounds, starting in 1928 with President Calvin Coolidge. Visit the Golden Isles and Explore all the historical sites and attractions!
St. Simons Island and the Golden Isles offers a variety of dining options from upscale to outdoor barbecue, there is something for all tastes. With world renowned chefs and appearances on Food Network shows there are many exciting options for you, your family and friends to enjoy!
Find a number of fun things to do, see and explore with Fido on your next trip to Saint Simon's Island. From dog-friendly beaches to local pet grooming and emergency services we've got you covered. Check out our FAQS too!
Live like a Local, if only for a Day!
Visitors to St. Simons Island often say how the drive over the bridge starts the journey into a different pace of life. With views of the marsh and waterways, your mood changes instantly with the scenery. Once on St. Simons, island living begins. No matter when you come to visit us on the island, you'll find that our area is warm, friendly and inviting. We look forward to welcoming you to St. Simons and sharing our island life with you!
ST. SIMONS ISLAND, GA
St. Simons Island is a quintessential beach town, full of southern charm and seaside beauty. The area boasts beautiful natural landscapes and gorgeous sandy beaches. However, the miles of beautiful coast line are not the only thing that keeps vacationers coming back for years to come. From local festivals, gallery shopping, world-class dining and a plethora of outdoor activities there is something here for everyone! With miles of paved bike paths surrounded by ocean and marshland, St. Simons Island is a bike rider's paradise. St. Simons Island is perfect for vacationers young and old. Mild temperatures and many fun things to do on St. Simons Island make it the perfect destination year round.
---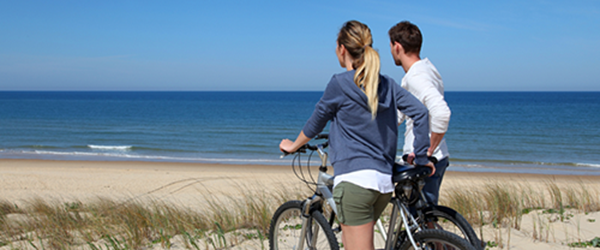 BRUNSWICK, GA
Historic Brunswick, just a short drive from St. Simons Island, has much to offer with many festivals, events, theatre shows, antique shopping, and restaurants. The mainland port city is home to an active and bustling port and to a rich seafood industry. The Lady Jane shrimp boat offers excursions for the public to experience life on a shrimp boat firsthand. Downtown Brunswick's city streets and squares still hold their colonial names, giving it an old town feeling.
JEKYLL ISLAND, GA
Jekyll Island, across the water or across the Sidney Lanier Bridge, is home to many notable landmarks. Driftwood Beach, a popular place for photography, and the Georgia Sea Turtle Center are popular stops on the Island. Jekyll Island was a common destination for many rich and famous people in the late 1800's and has several landmarks that will take you back in time. Now run as a State Park, Jekyll Island is maintained and operated by the State of Georgia.
SEA ISLAND, GA
Sea Island can only be reached by the causeway on St. Simons Island and is home to the Forbes Five- Star Cloister on Sea Island and The Lodge at Sea Island Golf Club, a Forbes Five-Star and AAA Five-Diamond property. Sea Island is known for its championship golf courses, private Beach Club, Five-Star Dining, and more. Membership is required to access the Sea Island amenities, but as host to the PGA Tour's RSM Classic, the public can gain access through affiliation with the tournament. Known for its championship golf courses which are exclusive to its members, only open to the public a few times throughout the year and one occasion being the PGA Tours RSM classic. Sea Island access is restricted to members and homeowners but if you ever get the chance to visit Sea Island you won't be disappointed!
What's Happening in the St. Simons Island Area?
Island Events & Festivals pop up along the Southern Georgia coast on a regular basis. Come read about all that's happening in and around St. Simons Island on our Insider Blog.  You won't be sorry you did!