Golden Isles History
The area contains many historically significant sites including Fort Frederica established by James Oglethorpe in 1736, the St. Simons Island lighthouse originally built in 1810, and the Brunswick waterfront where Liberty Ships were constructed during WWII—and a story accompanies each location. Many Plantation-era structures remain and the beautiful Jekyll Island Historic District is rich with period architecture. The area is filled with historic structures and sites, many accompanied by detailed historic markers that make self-exploration and adventure.
ST SIMONS ISLAND POINTS OF INTEREST
With a rich history spanning from Native Americans to Spanish Missions to the Plantation Era, St. Simons Island has plenty of interesting and significant sights to explore.
Explore area activities for you and your family. Take a walk on the beach and see the historic Light House on St. Simons Island, or maybe take a day trip to Jekyll Island and visit Driftwood Beach. Historic sites, entertainment, shopping, and restaurants..the Golden Isles has it all!
Just across from Christ Church is the Wesley Memorial Gardens—native Georgia plans surround an 18-foot Celtic cross that pays tribute to John and Charles Wesley, evangelicals who came to Georgia in 1736.
One of the more widely know pieces of St Simons Island history is the lighthouse, originally built in 1810 and was destroyed by Confederate forces in 1862 to prevent use by Federal troops. On the site now is the lighthouse and lightkeeper's quarters rebuilt in 1872 and still in operation today. Visitors can climb to the top for a 360-degree view and wander the original lightkeeper's dwelling.
This Roosevelt-era Coast Guard Station is listed on the National Register of Historic Places. An interactive guide and hands-on exhibits take visitors through the natural setting, military history and the daily life of a "Coastie" stationed on St. Simons Island in the 1940s.
On July 18, 1742 the Spanish and British, led by General Oglethorpe, fought for control of the road between Fort St. Simons and Fort Frederica. The Spanish left the island on July 25, finishing their last invasion of Colonial Georgia.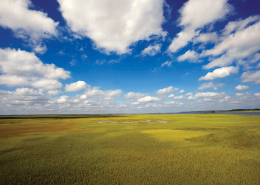 Historic Brunswick Sights & Architecture
With its city streets and squares still bearing colonial names like Gloucester, Newcastle and Norwich, the architecture is as classic as the names. Homes in Historic Downtown Brunswick reflect architectural styles including Queen Anne, Gothic, Italianate and Jacobean.
Several civic buildings boast unique styles, notable architects and rich histories. A stroll through the Old Town uncovers the town's history as told by the architectural detail
701 G Street – Located in Magnolia Square, the courthouse was designed by New Jersey architect Charles Alling Gifford of the New York firm Gifford & Bates. Construction was completed in 1907. The Brunswick Courthouse is an example of Neoclassical Revival style (as seen in the window details) or Beaux Arts, combining ancient Greek & Roman forms with Renaissance ideas.
Construction began in 1886 from Alfred Eichberg's design and was completed in 1889. Constructed of granite and brick with a distinctive clock tower that still functions today, the architectural style is Richardsonian Romanesque. Interesting details include the Italianate brackets, terra cotta friezes decorating the clock tower and side entries and gargoyles on the corner columns.
1530 Newcastle Street – Built in 1899, the structure was originally built to house the Grand Opera House, retail and the offices of the Brunswick & Birmingham Railroad. Since then, it has served as a vaudeville theater and motion picture house until it fell into decline in the 1960s and 70s. In 1981, the City of Brunswick purchased and reconstructed the building, leaving the Ritz sign intact. The Victorian building features ornate brick and stone work. In the 1920s, art deco features were added to the first floor level.
1709 Reynolds Street – Designed by famed architect J.A. Wood and constructed in 1891, this restored home is considered one of the finest examples of Carpenter Gothic architecture in the South. This style refers to the variety of airy, wooden filigrees.
5556 US Highway 17 North – Around 1807, William Brailsford carved a rice plantation from the inhospitable terrain of cypress swamps along the banks of the Altamaha River. Today, Hofwyl-Broadfield Plantation stands very much as it did at the end of its rice-producing era. Drive north on U. S. Highway 17 approximately 14 miles and step back to a time and life-style long faded away. now a state park, Guided tours allow visitors to see family heirlooms, 18th and 19th century furnishings and the family's silver collection. At Christmas, the home opens in the evening and features candlelight tours of the home.
Brunswick, Georgia was laid out in grid style, following Oglethorpe's plan for Savannah. Designed to allow residents to live in harmony with nature, enjoying an abundance of green space, many of the 14 planned squares remain today. With public spaces, fountains and open areas, each unique square has a story to tell.
1001 Mansfield Street – and chartered by an act of the General Assembly in 1788, Glynn Academy is the second-oldest public high school in the South and fifth-oldest public high school in the United Sates. The first building was built in 1819. The Old Glynn Academy Building was constructed in 1840 and was later relocated. In 2008, the building was returned to the Glynn Academy campus and now serves as an interpretive museum. In its long history, buildings have been added with period architecture, giving this historic high school the feel of a college campus.
Prince & Albany Streets – According to local legend, this 900-year-old live oak tree has long been a meeting place for lovers. Native American braves and maidens would meet under its branches to seal their true love with a kiss. The massive oak trunk is 13 feet in diameter and branches into 10 limbs.
Bay Street & Gloucester Street – During World War II, Brunswick shipyards played a critical role in war efforts. Between 1943 and 1945, 99 Liberty Ships were built here. Brunswick bustled with a skilled labor force of over 16,000 men and women working on the ships. The vessels were 447 feet and carried war equipment, supplies and troops—their reputation for keeping vital supply lines open earned them the name "Liberty Ships." In December 1944, shipyard employees set a record by constructing seven ships in one month. Their dedication so strong, laborers worked on Christmas Day with no pay. A 23-foot scale replica of a Liberty Ship can be seen on the grounds of Mary Ross Waterfront Part a the western end of Gloucester Street.
Brunswick is one of the shrimp capitals of the world! The picturesque shrimp fleet may be seen from Bay Street between Gloucester and Prince Streets. Watch the shrimpers unload their catch in late afternoons from early June to late February.
This park, located at the foot of Gloucester Street at U. S. Highway 17, is a fine vantage point for viewing the vast and beautiful marshlands and river networks that flank much of Coastal Georgia.
Under this tree during the 1870's, Georgia poet Sidney Lanier was inspired to write The Marshes of Glynn, considered to be his finest poetry. Located in the median of U. S. Highway 17 at the foot of "G" Street.
BRUNSWICK STEW
With two towns competing as the creator of the popular Southern stew, its exact origin is still under debate. But around here, Brunswick, Georgia certainly holds the title of first and best Brunswick Stew over Brunswick County, Virginia.
Recipes for Brunswick Stew vary, but it is typically a tomato-based stew with local vegetables including lima beans, corn and okra along with meat. Some include potatoes, but its signature feature is its consistency—true Brunswick Stew must be thick. Brunswick Stew is typically made in large pots, simmering for long lengths of time.
Each October, Brunswick, Georgia celebrates its signature dish with the Brunswick Rockin' Stewbille. Attendees taste and vote for the annual title of Best Brunswick Stew.
Golden Isles Brunswick Stew
World Famous Brunswick Stew
Southern Soul's Brunswick Stew
JEKYLL ISLAND POINTS OF INTEREST
Thirty-three of the original winter homes of the wealthiest families in this country still stand, with many mansion-sized cottages now open to the public. Numerous service buildings have been converted to specialty shops or restaurants. The original Clubhouse has been restored and is currently in use as a resort hotel. The Historic District is located on the west side of Jekyll Island near the entrance to the Jekyll Island Causeway.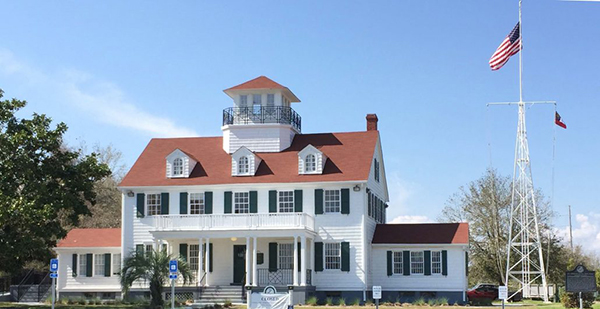 HORTON'S BREWERY SITE
The tabby ruins of Georgia's first brewery are located on Riverview Drive. Built by Major Horton, an aide to General Oglethorpe, Georgia's founder, the brewery supplied ale to troops and settlers at Fort Frederica on St. Simons Island.
HORTON HOUSE
Located on Riverview Drive, this two-story ruin, dating from 1742, is one of the oldest standing tabby structures in the state. Tabby is a building material native to coastal Georgia having crushed oyster shells as its principal ingredient. Located nearby is the old du Bignon family cemetery.
CLAM CREEK PICNIC AREA
A scenic drive through moss-draped oaks and along the wide marshlands bounding Clam Creek leads to this popular picnicking spot that includes a large, covered fishing pier.
FAITH CHAPEL
Tucked serenely away in a quiet corner of the Historic District is picturesque Faith Chapel. This small, wooden church, complete with gargoyles guarding its entrance, has an unusual warmth and charm. Built in 1904 for interdenominational worship, Faith Chapel was attended by the wealthy and powerful members of the Jekyll Island Club.