Brunswick Georgia Area Information
Just seven short miles from St. Simons Island is Historic Downtown Brunswick, Georgia. Originally settled in 1738, today Brunswick is a thriving town where historic sites provide the backdrop for modern living. Historic Downtown Brunswick was laid out in the grid style following General James Oglethrope's plan for Savannah. A stroll through the historic district reveals many public squares, both large and small, and the original town plan has remained through today.
With oak-lined streets, Brunswick features a wide variety of architectural styles in its commercial buildings and homes dating back to the Victorian era. Historians and admirers of architecture delight at the town's rich history and landmark sights. Among the historic sights, a unique lifestyle thrives. With a nod to history and a vision of the future, Historic Downtown Brunswick is alive with shops, restaurants and vibrant events. Visitors to St. Simons Island often enjoy a day or evening in Brunswick, exploring this neighboring port city.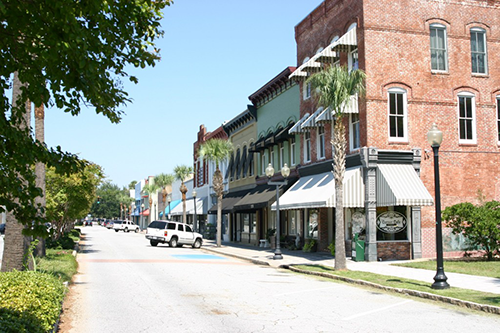 A Little Bit of Brunswick History
Brunswick's first settler, Mark Carr, was a captain in General James Oglethorpe's Marine Boat Company. He established his plantation in 1738 on 1,000 acres. In 1771, the Royal Province of Georgia purchased the land and established the town of Brunswick, laid out in the grid style following Oglethorpe's plan for Savannah. The Oglethorpe Plan intended to create an orderly city filled with common green space, allowing residents to live in harmony with nature. The town is named after King George II's ancestral home in Germany. During a time when many towns and cities were distancing themselves from their English heritage, Brunswick retained the English names of its streets and squares, which are still present today.
Glynn Academy was the first public building constructed in 1819. During the 1800s, development continued with a courthouse, jail, homes and retail. In 1854, the Altamaha-Brunswick Canal opened, connecting the natural port with interior plantations. And in 1856, the railroad opened. By 1860, Brunswick had a bank, weekly newspaper and sawmill. During the Civil War, the city was ordered to evacuate and the canal and railroad ceased operation. A post-war depression followed until one of the nation's largest lumber mills began operations on neighboring St. Simons Island. The heart pine lumber cut here became timers, floors and ceilings for building activity worldwide. In the late 1800s, port business for lumber, naval stores, oyster and cotton were expanding.
For World War I, wooden and concrete ships were built in Brunswick. And during World War II, 99 Liberty Ships were constructed in Brunswick and the local population tripled. Today Brunswick is home to a thriving port and is the Shrimp Capitol of the World. Brunswick's Old Town district is the largest small town on the National Register of Historic Places in Georgia. The National Main Street program is a carefully planned revitalization to preserve and showcase Brunswick's distinct historic qualities.
Explore the Mainland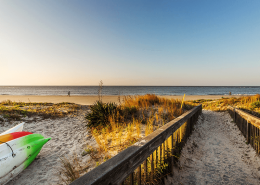 Explore area activities for you and your family. Take a walk on the beach and see the historic Light House on St. Simons Island, or maybe take a day trip to Jekyll Island and visit Driftwood Beach. Historic sites, entertainment, shopping, and restaurants..the Golden Isles has it all!
Area beaches are a major draw for both residents and visitors to the island. St. Simons Island has miles of beachfront for you to walk, bike, or relax on! Conveniently located across the island, find the perfect beach access for your trip to St. Simons Island. You can also enjoy the salt air and ocean views on Jekyll Island.
From the oldest church in Georgia, to a working lighthouse built in the 1800's, St. Simons Island is rich with history. Brunswick dates back to the early 1700's and was one of the five original ports of entry for the American colonies. On Sea Island, you can learn about the historic and commemorative oaks that distinguished guests plant on the grounds, starting in 1928 with President Calvin Coolidge. Visit the Golden Isles and Explore all the historical sites and attractions!
St. Simons Island and the Golden Isles offers a variety of dining options from upscale to outdoor barbecue, there is something for all tastes. With world renowned chefs and appearances on Food Network shows there are many exciting options for you, your family and friends to enjoy!