St. Simons Island Restaurants & Dining
STAFF FAVORITES
The Hodnett Cooper team has years of island dining experience. We've tried everything. There are so many great St Simons Island restaurants, you may not know where to begin. For food lovers like us, we've compiled a list of staff favorite dishes to get you started.
French Toast at Café Frederica – Ooh la la…made with French bread and served with powdered sugar and maple syrup, there's no better way to rise and shine.

Pork pops at Sweet Mamas – Tiny muffin "pops" with cheddar cheese and bacon baked in. That's right, cheese and bacon.

Sandcastle Breakfast Buffet – Not for the timid, this buffet has everything you ever wanted for breakfast. And it is all dee-lish.

Palmer's Village Cafe – Five star cuisine on the coast! Omelets , eggs to order, pancakes, or biscuits and gravy there is something to please everyone.
Crab cakes at Barbara Jeans – Famous for their crab cakes—which are primarily crab and very little "cake"—the restaurant now ships these babies to an ever-growing fan base. Careful, you may get addicted. Be sure to add a side of white cheddar cheese grits!

Barbecuban at Southern Soul – A twist on the barbecue sandwich, the Barbecuban features mustard and pickles. A side of Brunswick Stew goes nicely as well.

Fried pickles at Gnat's Landing – This is the South and we do like to fry things. Go ahead, give it a go.

Oysters Redfern at Catch 228 – Served on the half shell, oysters are cooked with BBQ sauce and bacon.

The Dixie Burger at Beachcomber – Mayo, lettuce, tomato, cheddar cheese and bacon cooked to mouthwatering perfection.

The Pier Connection at Sandcastle – Featuring shrimp salad on a warm croissant paired with New England Clam Chowder. The seafood lover's soup and salad combo!
Fresh fish at the Georgia Sea Grill – Choose your catch, then choose the cooking style. You just can't miss.

Bennie's Red Barn – Filet with sherried mushrooms. Most of the wait staff have been at Bennie's for 20 or more years, so the menu is verbal. With your steak, don't forget a side of sherried mushrooms.

The Crab Daddy's Trifecta –Parmesan Crusted Salmon, green bean casserole and bread pudding.

Fancy Q Sushi – Highway 17 Roll, named for the scenic coastal highway, this tasty roll is a favorite.

Halyards – Shrimp and Grits, a Southern combination through and through

Delaney's – Bone-in filet. If it's not too busy, we sometimes ask for the Béarnaise.

Tramici – Risotto cakes. The. Best. Sauce.

Frederica House – Fried shrimp. Lightly battered. Super tasty.
St. Simons Sweets – For anyone with a sweet tooth, this candy store has combinations that will blow your mind. Turns out, you can cover anything in chocolate!

Sweet Mama's – Aunt Dee's Pound Cake and/or Sonny's Delight. We can't choose. Try one of each but make sure you get there before they close at 2:30 pm!

Barbara Jeans – "Chocolate Stuff", Eluding definition, "chocolate stuff" is simply delicious.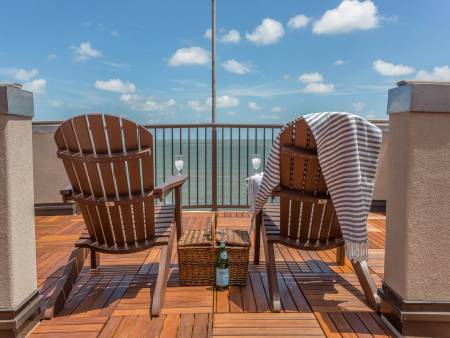 PREPARE YOUR MEAL AT HOME
Enjoy a night in and prepare a delicious meal at home in your fully equipped vacation rental kitchen. Shop for the freshest ingredients at our local farmer's market and supermarkets. From organic veggies and produce to farm fresh meats and specialty cheeses, St Simons Island has all the elements necessary for a gourmet meal!
FARMER'S MARKET
Located on Frederica Road Uncle Don's is a local produce market with prepared foods to go and seasonal gift items.

GROCERIES

ISLAND NATURAL MARKET
Organic vegetables, farm fresh meats and healthy snacks.
204 Retreat Village
912.634.0394


HARRIS TEETER MARKET
Newly renovated, Harris Teeter offers traditional groceries as well as prepared meals, fresh bakery, walk-in beer cooler, specialty cheese shop and olive bar.
600 Sea Island Road
912.638.8100

WINN DIXIE
Winn Dixie offers traditional groceries, fresh bakery and specialty cheese shop.
220 Retreat Village
912.638.4805