St. Simons Island Horseback Riding
St. Simons Island horseback riding on the beach is an incredible way to see and experience the scenery of Coastal Georgia. Plan a fun afternoon on horseback or a romantic evening ride, either way you will love soaking in the ocean breeze with these beautiful animals!
STABLES AT FREDRICA
Conveniently located mid-Island are The Stables at Frederica, offering boarding, lessons and the unique opportunity for horseback riding on St. Simons Island. Through the Stables at Frederica, you can schedule a horseback beach ride on neighboring Sea Island. This popular activity starts with a ride over a short bridge and through trails that lead to the beach. The horseback beach ride is an incredible way to see and experience the scenic beaches of Coastal Georgia.
Private and group riding lessons are available for adults and children. And in addition to beach rides, horseback rides through Musgrove Plantation and wooded rides are also available.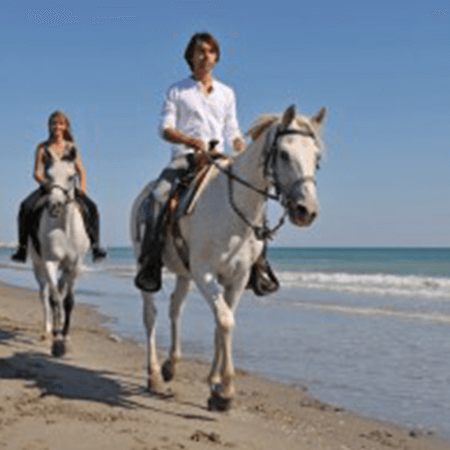 Romantic Horseback Riding on the Beach
A destination in itself, the Stables at Frederica on St. Simons Island was once exclusive to members and guests of the Five-Star, Five-Diamond Sea Island Resort. Now open to the public, this beautiful facility offers private and group riding lessons, trail rides and the opportunity to ride horseback on the beach. You and your partner won't soon forget this unique experience!
Stables at Frederica
150 Frederica Stables Drive
(Frederica Road roundabout where Frederica Road meets Lawrence Road)
912.434.4760